Service Pupils
We are very proud to serve our Service community and to have Captain Scott Fisher (RSEM Adjutant) on our Board of Governors. We are also an active member of Service Children in State Schools (SCISS) and Mrs Mason is a member of SCISS NEAC (National Executive Advisory Council) which helps support and signpost schools with Service Pupils.
As you know, the schools receives Service Pupil Premium (a total of £310 per head) for all Service pupils. This money is designed to support Service pupils with pastoral care and mitigate the effects of mobility. Our Service Pupil Premium report can be found here.
Military Kids Club and Mini Troopers
Children from our military families will have the option to join Military Kids Club. Miss Thomas and Anthony from the Army Welfare Service will run the club and children will have the opportunity to play and socialise with other military children, the chance to discuss topics related to military life and throughout the year will get additional opportunities for team building experiences.
Mini Troopers is a new club (March 2022) The idea around the club is for some of our youngest Service children meet and share experiences with children in the same situation. Though many of them may not have moved schools yet, they may have had times where mum or dad has been away for a long time for work so it offers a safe base to share how they feel with pastoral support. It also gives them a chance to form relationships with each other and Miss Thomas, our Pupil premium Support Champion, before they move up the school.
Visit this page to see what the Military Kids Club and Mini Troopers get up to!
Reading Force
Reading force is a free in initiative available to those serving, reservist, veteran, injured- as well as divorced/ separated partners and children of forces personnel.
"At Reading Force, we are passionate about using books to bring Forces children and families closer together. Our shared reading initiative encourages families to read, talk, and scrapbook about a book, improving communication and enriching relationships with books and each other – one page at a time."
They deliver books and scrapbooks directly to your door which has helped many families during lock down. As restrictions ease, you can still use their materials to keep in touch with a deployed parent and wider family.
Scrap books are available for children to collect at school from Miss Thomas and for more information and to sign up visit the reading force website at: https://www.readingforce.org.uk/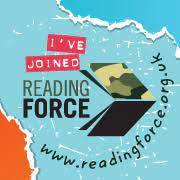 Pictures below are from our Kent Armed Services Pupil Conference (pre-COVID 2019)