Wellbeing
Welcome to Brompton Westbrook's Wellbeing page.
This page is intended for children and adults alike, to provide support and information on how to protect our wellbeing and provide learning opportunities and activities for promoting positive wellbeing.
It is important that we look after our physical and mental health and wellbeing, particularly in this tricky time.
Brompton Westbrook AIMS for Happiness:
A - We want children to acknowlege all emotional states and appreciate that it is normal to feel like this.
I - We then want to provide children with the tools and strategies for improving their mental wellbeing....
M - ...and managing their emotions.
S - Finally we want to offer support to all children and families through access and information on additional services within and outside the school.
This is all with a view to Happiness - which refers to the 10 Keys to Happier Living. This guide was put together through scientific and psychological research by Action for Happiness. It states 10 elements which can work towards building our happiness and below you can see suggestions and activities under each key which work towards greater wellbeing.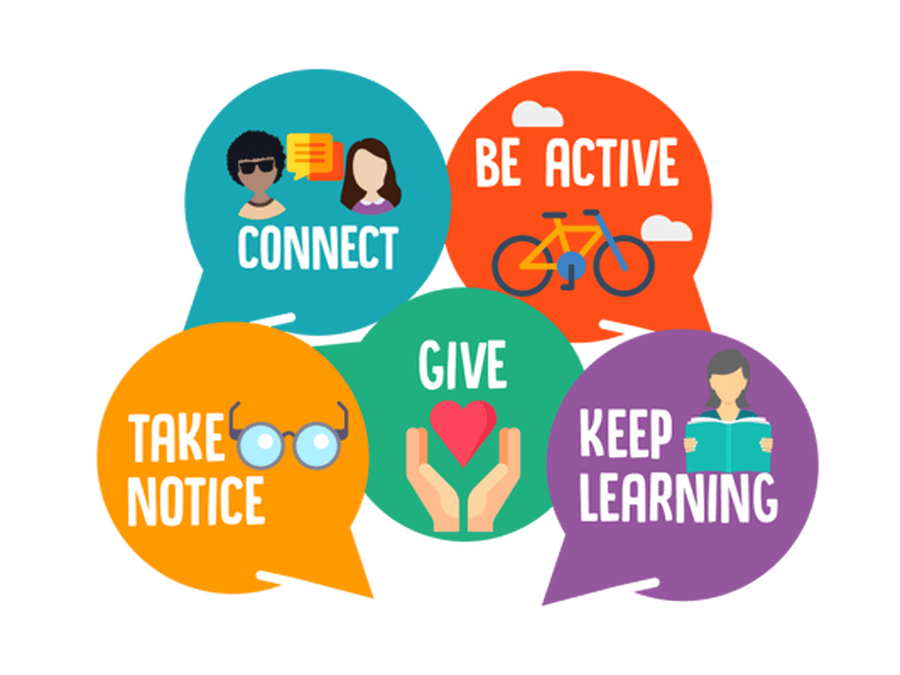 5 WAYS TO WELLBEING
Brompton Westbrook follows the 5 Ways to Wellbeing, as recommended by the NHS and various mental health and wellbeing charities, as a way to promote positive mental health. Find more information by following visiting the NHS website. https://www.nhs.uk/conditions/stress-anxiety-depression/improve-mental-wellbeing/
Each term, the children will explore a different one of the 5 Ways to Wellbeing; participating in class discussions, sharing their ideas, promoting positive wellbeing and mental health and participating in class and whole school events.
TERM 2 - GIVING
MENTAL HEALTH SUPPORT
We are fortunate to benefit from lots of local mental health support services:
Click here for information from Medway Council on supporting your child's mental health and click here for support with your child's existing mental health needs.
Click here for information on supporting parent's mental health at this time.
Click here for a list of Medway School Health information and services which are still available during lock down.
ACTION FOR HAPPINESS - 10 KEYS TO HAPPIER LIVING
**NEW** - New Ways November Calendar - click here to find a daily guide to trying new things this November.
Here you can find a range of activities to increase wellbeing, using the 10 Keys to Happier Living Guide. Click here to view the guide.
1. GIVING - 'Do for others'
2. RELATING - 'Connect with people'
3. EXERCISE - 'Take care of your body'
4. AWARENESS - 'Living mindfully'
5. TRYING OUT - 'Learning new things'
6. DIRECTION - 'Having goals'
7. RESILIENCE - 'Finding ways to bounce back'
8. EMOTIONS - 'Look for the good'
9. ACCEPTANCE - 'Be comfortable with who you are'
10. MEANING - 'Be part of something bigger'